The Beautiful All Natural *No Stain* Coop d Villa's
* available in green, red or galvalume roof colors
#1,- 8′ x 5.5′ x 7′-4″ $1,600.00
#2,- 8′ x 7′ x 7′-4″ $1,800.00
Save an extra $50.00 if you pick the coop up.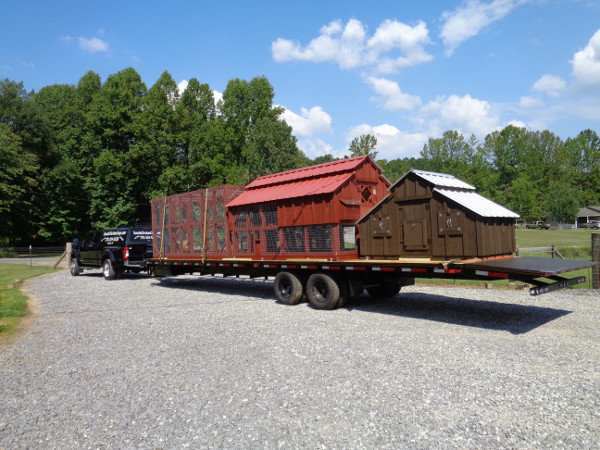 * Call or text (770) 324-5138 and check. I might have something built -n-ready to go…
I deliver up to a 500 mile radius of Turtletown, TN. 37391 with one coop. I'll go farther with more coops on the trailer.
The average long distance delivery price is $2.65 per mile on one #1, #2,& #3 coops or $3.50 a mile split with another customer in the same area. Add a Run with your coop then add .25 cent per mile. The #4-A & 4-B Flock Wood coop delivery rates start at $2.75 per loaded mile Call or email and we can discuss further details.
My largest flat bed trailer power tilt's and is 40 ft. long so I can haul several coops at one time if needed.
* Inter city deliveries such as Atlanta, Chattanooga, Knoxville, and surrounding metro cities & towns have a flat rate price. Call or email for delivery price.
Note, Delivery price is considered a curb side delivery price. If it is possible to get the truck & trailer to the exact spot where your wanting the coop, I will do what I can but I will not damage my truck & trailer in the process of getting it there.
Keep in mind that my smallest #1 coop d villa weighs around 850 pounds and the Biggest flock wood coop weighing in at around 2000+ pounds.
I do have a set of caster type wheels I can temporary install so the coop can be pushed to it's exact spot but the ground will need to be pretty smooth & hard in order to push the coop.
If you have a farm tractor or skid steer with forks or bucket available, I will be more than glad to help get the coop to your exact spot.
Prepping the spot where you want your coop:
If you want your coop to look it's very best after it is placed, it would be best to level the ground / dirt or build a level foundation out of 4×4's, 6×6's or cement blocks, bricks or stepping stones then set the coop on top.
Call, text or email and I can give you the exact outside to outside measurements you will need to build the foundation.
If you have the foundation materials available at the time of delivery I will be glad to build the foundation for an additional charge. I must know this in advance in order to have all the special tools needed to do the project.
Remember, My coops are framed out and built with all ground contact pressure lumber and designed to be set right on the ground. The board-n-batten siding material is not pressure treated.
Delivery charges & coop deposit must be paid up front before the coop will be built or delivered. No exceptions, I'm sorry it has to be this way but I've had a couple of high profile people in the Alpharetta, Milton, GA. area take advantage of my old fashion way of doing business.
All orders will be built in the order they are received.
Thank You for Your Business!
Go to www.googlemaps.com and search for David's Chicken Coop.
Read my reviews from my wonderful customers.